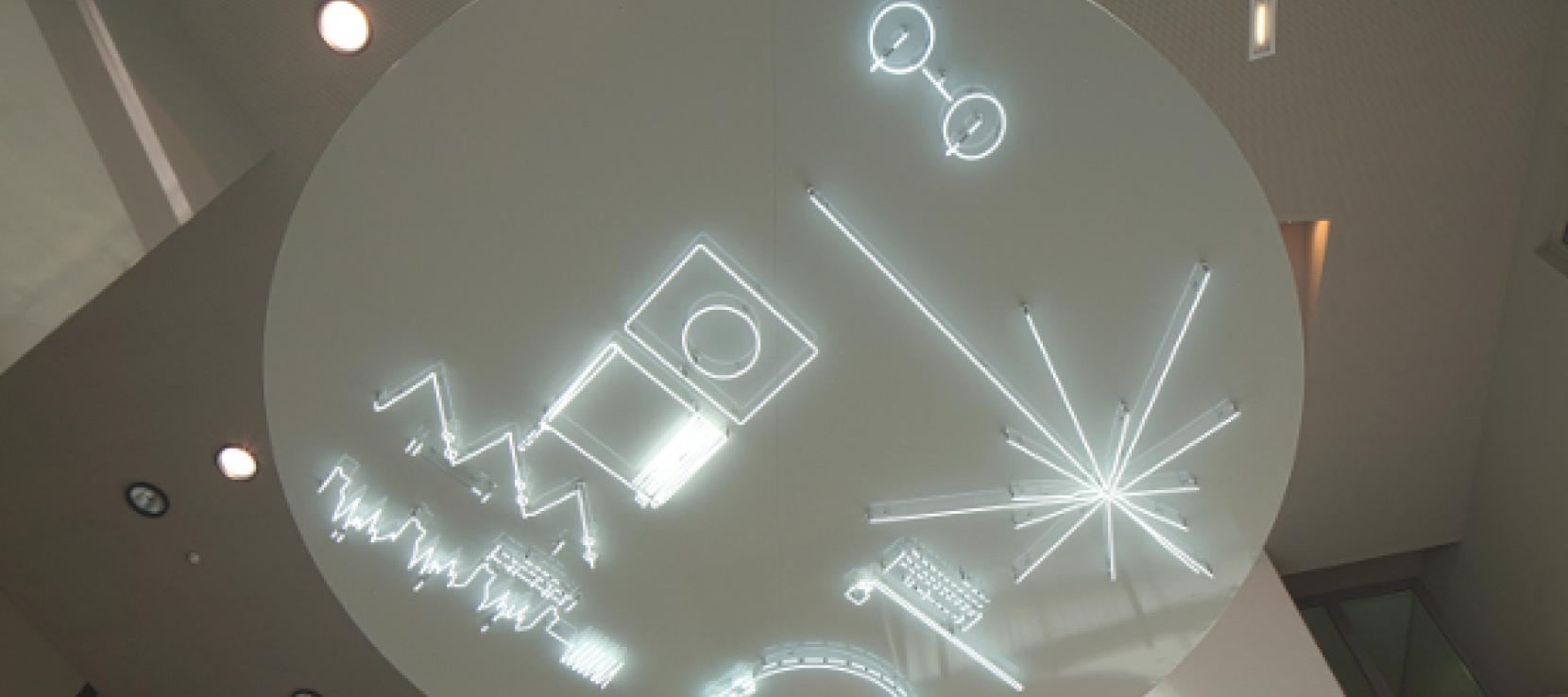 Kosmogramme 2 - C. Berdaguer et M. Péjus
Kosmogramme 2 (2009) is a ceiling light formed of a series of neon tubes set on a varnished disc of sheet metal (Ø 4.50m / h 15 cm). This art piece was a request made in the context of the 1% of art. It is placed in the hall of the lecture theatre Buffon.
 
In 1977, NASA's probe Voyager was sent into space to explore external planets in the solar system. It transports a gold disc engraved with pictograms of our civilization. In Kosmogramme 2, Christophe Berdaguer and Marie Pejus, plastic artists, transpose those pictograms by using neon tubes, set on a disc hanging over the visitors' heads. The piece represents a luminous and enigmatic constellation raising questions on language, communication, the function of signs and the possibility of decoding them. How could the extraterrestrials understand the signs that are still a mystery for us, humans? Ultimately, the visitor fins himself in the role of the extraterrestrial to whom the message was initially addressed.
 
Christophe Berdaguer and Marie Pejus
 
Born in 1968 and 1969, respectively and living and working in Marseille and Paris. Christophe Berdaguer and Marie Pejus, plastic artists, work together since the mid-1990s. They raise the question of space and its perception, either external space or psychic space, which has particularly driven them to work with architecture (with architectural firms such as Decosterd & Rahm, SWELL or Rudy Ricciotti) or with the neurologist. Jean-François Chermann. Their work is an interaction of knowledge coming from different fields of study, from medicine to sociology, even politics, economy or biology. Their work, though outstandingly exploratory, is not limited to a particular medium. They use a variety of techniques and materials thus inviting us to reconsider our way to understand, collectively and individually, our world.