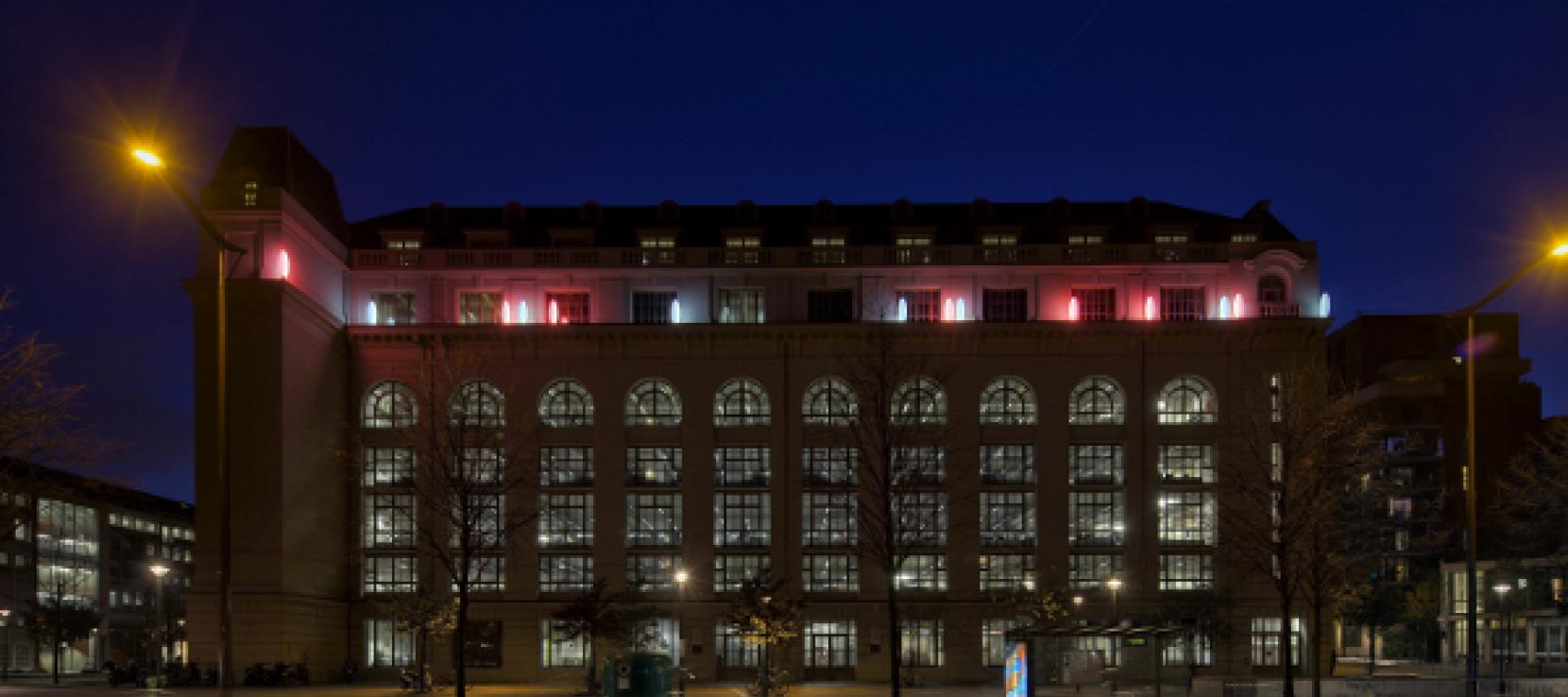 Allumouette - Yann Kersalé
Allumouette (2006) is a series of luminous elements disposed on the cornice of the building of Grands Moulins. With Allumouette, Yann Kersalé creates creates a luminous path at the scale of a whole facade. At night, it is rythmed by oblong elements and an anti pigeon luminous dispositive, which goes from red to rose or orange before going back to white, their initial colour. The display of lights made by the artist invites a curious eye to walk over the facade of Grands Moulins evolving over the cornices on the glass roofs.
The title of this work is a portmanteau word associating allumette (matchstick) and mouette (seagull), birds which are undoubtedly very significant for Kersalé, being descended from a five generation lineage of breton sailors. An Allumouette would then mean that these giant matchsticks purpose is not to chase away the pigeons but seagulls from the nearby Seine instead.
 
Geographic situation: Grands Moulins building

Yann Kersalé
Plastician artist of light. Born in 1955. Lives and works in Paris
Holding a degree on Fine Arts of Quimper in 1978, Yann Kersalé begins by bringing to light many shows before dedicating himself to putting light to the architecture during the 1980s. an innovative kind of artistic intervention at the time.
At night, the artist transforms the architectural, henceforth classical, heritage without touching it (the glass roof of the Grand Palais in 1987, la Grande Place of Brussels in 2008) as well as the more contemporary creations:  the Sony-Center of Berlin, the Docks-Cité de la Mode et Design in Paris, or event the buildings by Jean Nouvel: l'Opéra de Lyon, the Agbar Tower in Barcelona and le Musée du Quai Branly in Paris. Through his luminous paths the artists invites us to dream and confers a new and different tonality to each of the buildings he touches with his art.
 
http://www.ykersale.com